The Lee Highway was an early American transcontinental auto trail. It connected the nation's capital, Washington, D.C., and San Diego, California on the Pacific. An extension connected San Diego to Los Angeles and San Francisco via El Camino Real. The Lee Highway was a very important transcontinental route, and its name still appears on roads in Virginia, Tennessee, and Alabama to this day.
The Lee Highway was named for General Robert E. Lee. Robert Edward Lee (1807-1870) was the son of Revolutionary War hero and Governor of Virginia Henry "Light Horse Harry" Lee. Robert E. Lee was a graduate of the United States Military Academy, an engineer, and a U.S. Army colonel. However, he was most famous as General-in-Chief for the Confederate States of America during the American Civil War. After the war, Lee was president of Washington College (now Washington and Lee University) in Lexington, Virginia where he is buried.

David Carlisle Humphreys of Lexington, Virginia was a professor of engineering at Washington and Lee University, resident hydrographer for the U. S. Geological Survey, president of the Association of Engineers of Virginia, and a founding member of the Omicron Delta Kappa honor society. Dr. Humphries was an active Good Roads supporter in Virginia. On January 15, 1919, Dr. Humphries received a letter from Dr. S.M. Johnson of Roswell, New Mexico discussing previous work on the auto trails between San Diego, Roswell and Hot Springs, Arkansas. Dr. Johnson was probably refering to the Borderland Route and the Southern National Highway which had the support of Roswell Good Roads activists. He wanted Virginia, hisancestral state, to become part of such a national highway across the southern United States. Dr. Humphreys and William A. Anderson of Lexington put out a call for a meeting in Roanoke, Virginia to form a new national highway association.

Dr. Humphreys had already published articles calling for the extension of the Shenandoah Valley Pike southward to Chattanooga and New Orleans. He suggested the road be called the "Battlefield Highway", "Valley Highway" or "Lee Highway." On February 22, 1919, Washington's birthday, a group of fourteen men met at a luncheon in Hotel Roanoke in Roanoke, Virginia for the formation of a provisional Lee Highway Association. The principle addresses were by David C. Humphreys and Dr. S. M. Johnson. The officers of this provisional association were D. P. Sites (President) and John Wood (Secretary). A Scope and Plan Committee was formed. Pre-organization details were handled by the Roanoke Chamber of Commerce. The fourteen men present were:
Dr. David Carlisle Humphreys of Lexington, VA, professor at Washington and Lee University,
The Hon. Elbert Lee Trinkle of Wytheville, VA, future Governor of Virginia (1922-26),
B. C. Moomaw of Cloverdale, VA,
John Wood of Roanoke, VA, first secretary of the provisional Lee Highway Association,
James A. Mundy of Natural Bridge, VA, on the Virginia Commonwealth Transportation Board (1919-1921),
J. S. Callison of Staunton, VA,
J. A. Turner of Hollins, VA,
M. C. Thomas of Crockett Springs, VA,
D. P. Sites of Roanoke, VA, first president of the provisional Lee Highway Association,
George E. Cassell of Radford, VA, a local judge,
F. H. La Baume of San Diego, CA,
Dr. John Preston McConnell of East Radford, VA, first president of Radford University (1911-1937),
Dr. S. M. Johnson of Roswell, New Mexico, Good Roads leader.
This provisional organization functioned from February 22 to December 3, 1919.
Five hundred men from five states met in Roanoke on Dec 3, 1919 to officially form the Lee Highway Association. The new association resolved that:
"The purpose for which this Association is formed is to promote the proper location, construction and maintenance, according to modern plans and specifications, of a great National Highway, to be an instrument of service to the people of America in times of peace and war, along the Great Appalachian Valley, between the Blue Ridge and Alleghany and Cumberland Mountain Ranges, beginning at the Gettysburg National Park, on the Lincoln Highway, and running via Winchester, Staunton, by the tomb of Robert E. Lee at Lexington; Natural Bridge, Roanoke, Bristol, Knoxville, Chickamauga National park at Chattanooga, on the Dixie Highway, and then to Birmingham and New Orleans, and to be named LEE HIGHWAY."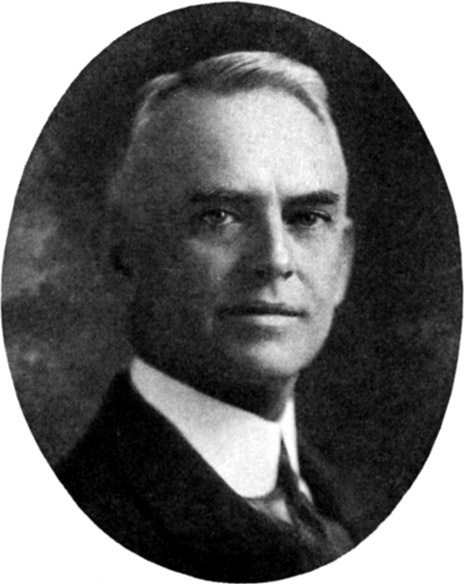 So, despite Dr. Johnson's call for a transcontinental highway, the first concept of the Lee Highway was a north-south road running from Gettysburg to New Orleans.
The Lee Highway Board of Directors met in Bristol on December 13, 1919, and D. D. Hull Jr. (pictured right) was unanimously elected president. He was nominated by Henry Roberts of Bristol and Mr. John E. Lovell from Chattanooga.
D. D. Hull Jr. of Roanoke, Virginia was president of the Association from December 13, 1919 to February 28, 1921. He was the General Solicitor for the Virginia Iron, Coal and Coke Company, and later president of the company. He was also a member of the Virginia Legal Advisory Board from Roanoke.
In April 1920, D. D. Hull Jr. chose S. M. Johnson (pictured left) as General Director, and the headquarters was set as Roanoke, Virginia. The first annual meeting was held in Knoxville, Tennessee. After one year Hull resigned for business reasons, and the second president was C. W. Huston of Chattanooga, Tennessee. The headquarters was moved to Chattanooga, then to Washington, D.C. when Mr. Huston was chosen as President Hoover's First Assistant in the Department of Commerce. Mr. Huston served for more than a year as president of the Lee Highway Association.
On July 8, 1923 at the director's meeting in Chattanooga, John E. Lovell nominated Henry Roberts (pictured right) of Bristol as president, and Mr. Roberts became the Lee Highway Association's third president.
Other prominent Lee Highway members included J. Fred Johnson Jr. from Kingsport, mentioned in the 1926 Lee Highway book as a Director of the Lee Highway Association, and Thomas B. King of Memphis, General Vice President of the association in 1926. Mr. King is given credit as the man responsible for the routing through Memphis, Arkansas, and Oklahoma. Birmingham and New Orleans were said to be indifferent to a transcontinental routing, and Houston and San Antonio opposed a Lee Highway routing. However, Mr. King organized strong support in western Tennessee, Arkansas, and Oklahoma and this caused the Association to chose those states for the route of the Lee Highway. By this time the Lee Highway had evolved into a transcontinental route, no doubt due to Dr. Johnson's influence.
One of Dr. Johnson's efforts was in establishing "zero milestones" in cities and towns across America. From these milestones would be measured highway miles for maps and guidebooks. The most important of these was the Zero Milestone on the Ellipse fronting the White House in Washington, D.C. This milestone is pictured in the print above right, and was the starting point for the Lee Highway and Bankhead Highway. The picture on the left shows Thomas B. King in front of the zero milestone in Memphis, Tennessee. Both of these milestones are still in place. Several other milestones were placed along the Lee Highway. The next photo shows Col. Ed Fletcher (second from left),who was a vice president of the Lee Highway Association, as well as an officer on the Old Spanish Trail and Dixie Overland Highway associations. The men are standing around the Pacific Milestone, the zero milestone in the center of San Diego, California. It was dedicated on November 17, 1923. The front of the milestone features the Lee Highway symbol, while another side is dedicated to the Old Spanish Trail.
Below are two more milestone photos on the Lee Highway. On the left, is the Hawkins County Milestone near Rogersville, Tennessee (photo courtesy of Christopher Vaughn). The missing brass plaque showed a stagecoach scene. The milestone is made of local Tennessee marble. It was given to Hawkins County by Mr. and Mrs. L. R. Baker and Mr. and Mrs. E. A. Cope. On the right is a photo of Col. Ed Fletcher reading the Pacific Milestone dedication address from President Calvin Coolidge. The president threw an electric switch to signal the dedication. The brass plaque, which is still present, thanks Mr. Fletcher for his efforts in bringing the Southern Transcontinental Highway to San Diego. Note the San Diego Lee Highway terminus sign. All the milestones on this page were designed by Washington architect Horace W. Peaslee.
Many early auto trails had multiple routes, and the Lee Highway had a few. It can be a bit confusing, but I've tried to make the branch descriptions logical. Linked towns have detailed route maps in the City Maps section.
District of Columbia

Virginia

Rosslyn, Lyon Village, Cherrydale, Lee Heights, Falls Church, Fairfax, Centreville, Gainesville, Haymarket, Buckland, New Baltimore, Warrenton, Waterloo, Amissville, Ben Venue, Rediviva, Sperryville, Luray, Hamburg, New Market, Tenth Legion, Lacey Spring, Harrisonburg, Mt Crawford, Burketown, Mount Sidney, Verona, Staunton, Greenville, Fairfield, Lexington, Fancy Hill, Natural Bridge, Buchanan, Troutville, Roanoke, Salem, Elliston, Christiansburg, Radford, Dublin, Pulaski, Wytheville, Groseclose, Atkins, Marion, McMullin, Seven Mile Ford, Chilhowie, Abingdon, Barytes, Bristol.

Tennessee

Bristol, Blountville, Eden's Ridge, Kingsport, Church Hill, Surgoinsville, Rogersville, Cuba, Mooresburg, Bean Station, Bowen, Avondale, Rutledge, Joppa, Blaine, Skaggstown, John Sevier, John Sevier Station, Knoxville, Bearden, Ebenezer, Concord, Martel, Lenoir City, Loudon, Philadelphia, Sweetwater, Niota, Athens, Riceville, Sanford, Calhoun, Charleston, Cleveland, Tucker Springs, McDonald, Mineral Park, Ooltewah, Chattanooga, Powells Crossroads, Whitewell, Victoria, Sequatchie, Jasper, Kimball, South Pittsburg, Richard City.

Alabama

Bridgeport, Haynes Crossing, Stephenson, Fackler, Hollywood, Scottsboro, Lim Rock, Woodville, Paint Rock, Gurley, Brownsboro, Ryland, Chase, Huntsville, Athens, Oliver, Rogersville, Mt. Olive, Thorntontown, Elgin, Center Star, Killen, Florence, Sheffield, Tuscumbia, Valdosta, Pride, Barton, Cherokee, Chisca, Margerum.

Mississippi

Iuka, Walker, Burnsville, Glen, Strickland, Farmington, Corinth.

Tennessee

Selmer, Hornsby, Bolivar, Whiteville, Laconia, Somerville, Oakland, Hickory Withe, Eads, Bartlett, Raleigh, Memphis.

Arkansas

West Memphis (route splits),

Wynne Branch

Marion, Crawfordsville, Lansing, Earle, Parkin, McDonald, Princedale, Levesque, McCrory, Patterson, Grays, Wiville, Howell, Cotton Plant, Erwin, Des Arc, Hazen,

Forrest City Branch

Widner, Madison, Forrest City, Palestine, Goodwin, Wheatley, Brinley, Biscoe, De Valls Bluff, Hazen,

Single Lee Highway route

Carlisle, McCreanor, Lonoke, Little Rock, Benton, Lonsdale, Hot Springs, Pearcy, Glenwood, Kirby, Daisy, Newhope, Dierks, De Queen.

Oklahoma

Ultima Thule, Eagletown, Broken Bow, Idabel, Garvin, Millerton, Valliant, Swink, Fort Towson, Sawyer, Hugo, Soper, Unger, Boswell, Bennington, Bokchito, Blue, Mead, Aylesworth, Madill, Russett, Mannsville, Caldwell Hill, Ardmore, Ringling, Loco, Comanche (route splits),

Lawton (early) Branch

Beckett, Liberty, Duncan, Lawton, Cache, Indiahoma, Manitou, Frederick,

Walters (direct later) Branch

Walters, Frederick,

Single Lee Highway route

Davidson.

Texas

Vernon, Thalia, Crowell, Paducah, Matador, Floydada, Lockney, Plainview, Olton, Springlake, Earth, Muleshoe, Lariat, Farewell.

New Mexico

Texico, Clovis, Cameo, Portales, Delphos, Elida, Kenna, Acme, Roswell, Picacho, Tinnie, Hondo, Glencoe, Ruidoso Downs, Mescalero, Bent, Tularosa, La Luz, Alamagordo, Turquoise, Oro Grande, Newman.

Texas

El Paso, Canutillo, Anthony.

New Mexico

Single Lee Highway west from El Paso
Anthony, Berino, Vado, Mesquite, Mesilla Park (and Las Cruces), Aden, Cambray, Myndus, Deming, Tunis, Separ, Lordsburg (route splits).

North (Mainline-Globe) branch
US 70 route to Franklin, AZ.

South (All Weather-Tucson) branch
Rodeo.

Arizona

North (Mainline-Globe) branch
Franklin, Duncan, Solomonsville, Safford, Thatcher, Pima, Glenbar, Eden, Ft. Thomas, Geronimo, Rice, Globe, Miami, Belleview, Superior, Desert, Apache Junction (branches merge).

South (All Weather-Tucson) branch
Douglas, Lowell, Bisbee, Tombstone, Benson, Pantano, Vail, Tucson, Florence, Superior, Apache Junction (branches merge).

Single Lee Highway route
La Mesa, Tempe, Phoenix, Tolleson, Avondale, Liberty, Buckeye, Palo Verde, Arlington, Gila Bend, Piedra, Sentinel, Stanwix, Aztec, Stoval, Mohawk, Colfred, Wellton, Dome, Yuma.

California

Winterhaven, Holtville, El Centro, Seeley, Dixieland, Jacumba, Boulevard, Pine Valley, Guatay, Descanso Junction, Alpine, El Cajon, La Mesa, San Diego.
Virginia

North Carolina

South Carolina

Georgia

Alabama

Mississippi

Tennessee

New Mexico

Arizona

California
The Lee Highway (US 29) - Washington to Warrenton (Adam Prince)
Dr. S. M. Johnson: A "Dreamer of Dreams" (FHWA)
Dr. S. M. Johnson Photo Gallery Along Lee Highway (Mid-1920's) (FHWA)
Zero Milestone, Washington D.C. (FHWA)
Lee Highway Marker - Roanoke, Virginia
United States Route 80: The Dixie Overland Highway - section on the Lee Highway (FHWA)
U.S. 11: Rouses Point, New York, to New Orleans, Lousiana
The Plank Road - Journal of San Diego History